GRAND ANGLE
With Grand Angle, Nobilis revives one of its iconic themes with this signature collection of contemporary panoramic wallpapers. Abstract and dream-like landscapes combined with figurative motifs, large «arty» drawings and precious patines.
The House's famous PBS wallcovering is used to create a large-scale marquetry, with 3 varieties of wood. Revisit grasscloths adorned with a classic drawings and a collage using its 'Raku' design wallpaper to form a Japanese moor .
With this large collection, Nobilis combines classic and contemporary designs, with audacity and refinement.
---
CIELO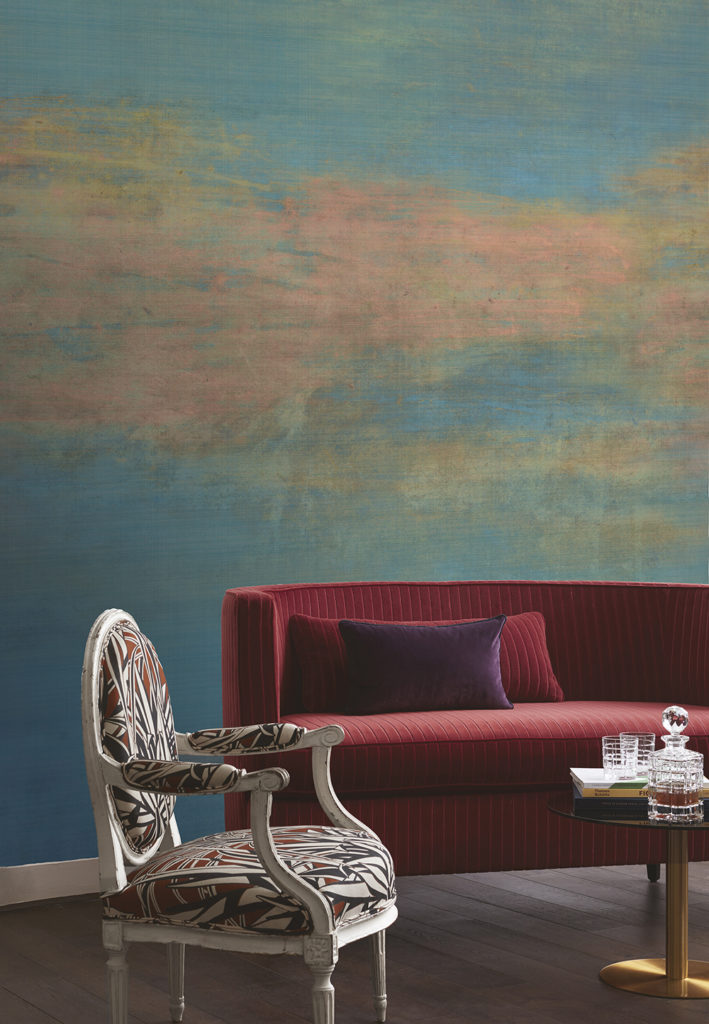 Cielo is a large abstract patina, like a meteor painted across the sky. A fine geometric frame brings materiality and a canvas spirit to this cloud of colors.
---
ADRYADES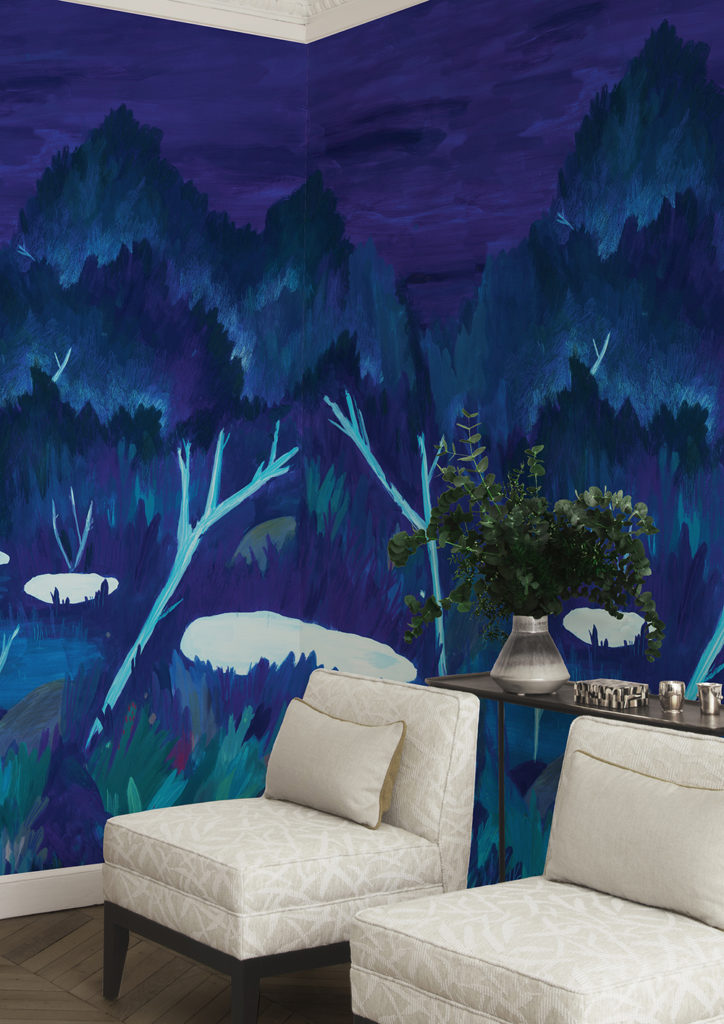 Hand painted, this mysterious night landscape dives us into the heart of a forest with a magical atmosphere. Trees, branches and bushes light up in shades of ultramarine and electric blues. Lakes and barks light up the fluorescence and give Adryades a magical aura.
---
LES CASCADES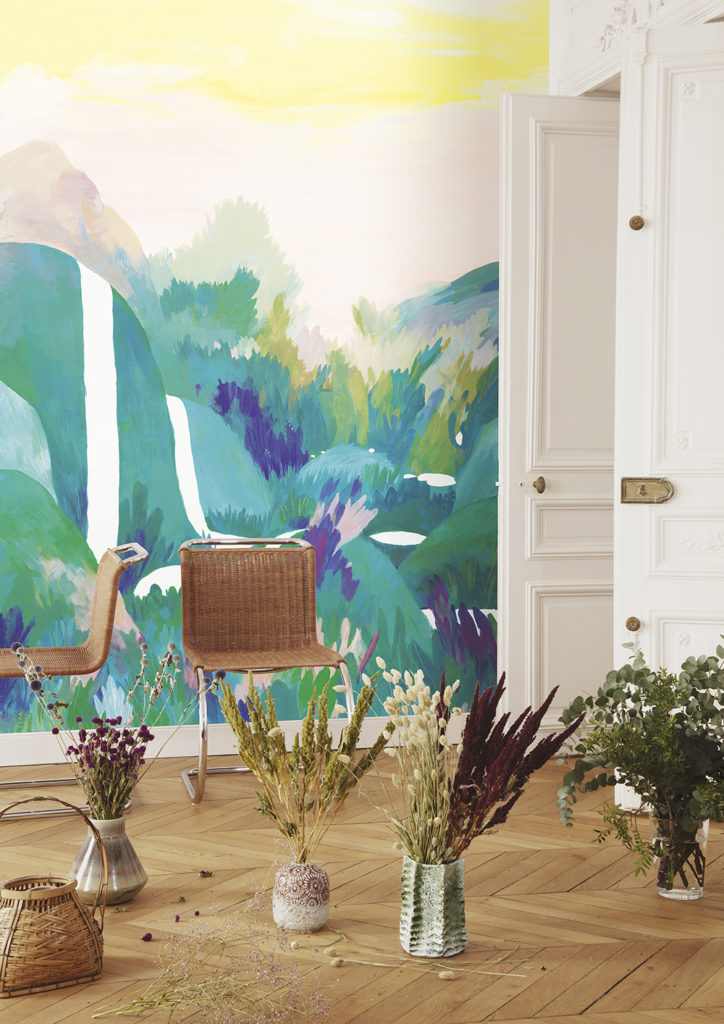 With its enchanting hilly landscape, alternating hills and waterfalls, this panoramic invites us to contemplation. Available in a daytime atmosphere, where the pastel tones of dawn caress the treetops, and in a mysterious nocturnal version, Les Cascades asserts itself as a large pictorial fresco, where the imagination is invited to run free.
---
PONTI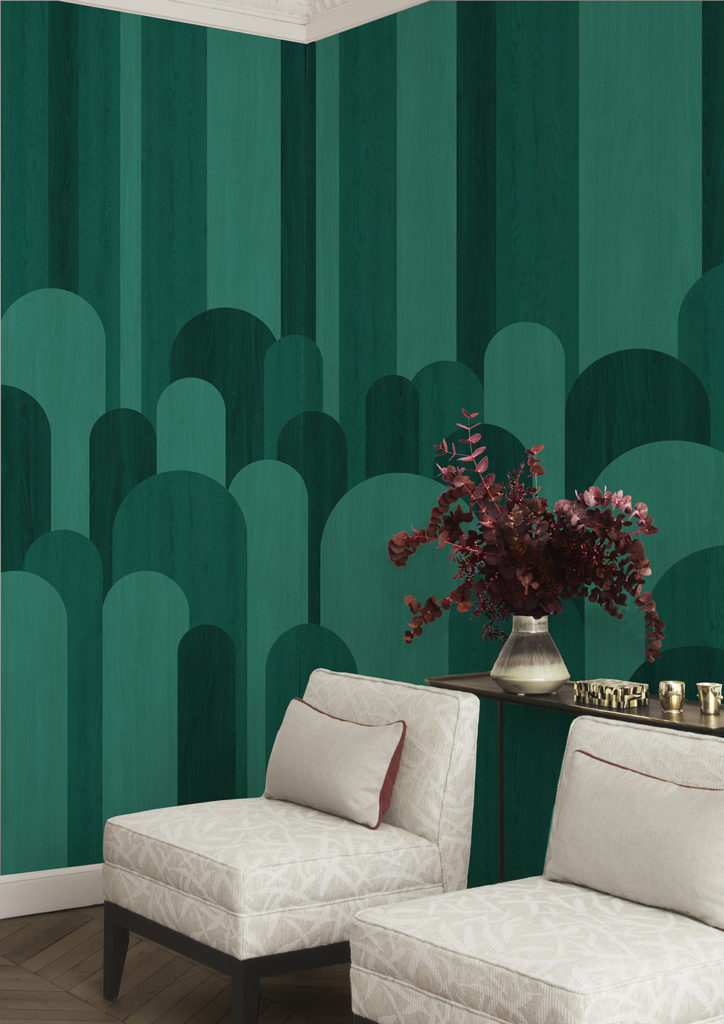 Nobilis re-imagines its famous PBS to create a large marquetry, made of three different types of wood. A natural color and two intense colors, duck and saffron, will elegantly dress both classic and contemporary interiors.
---
UKIYO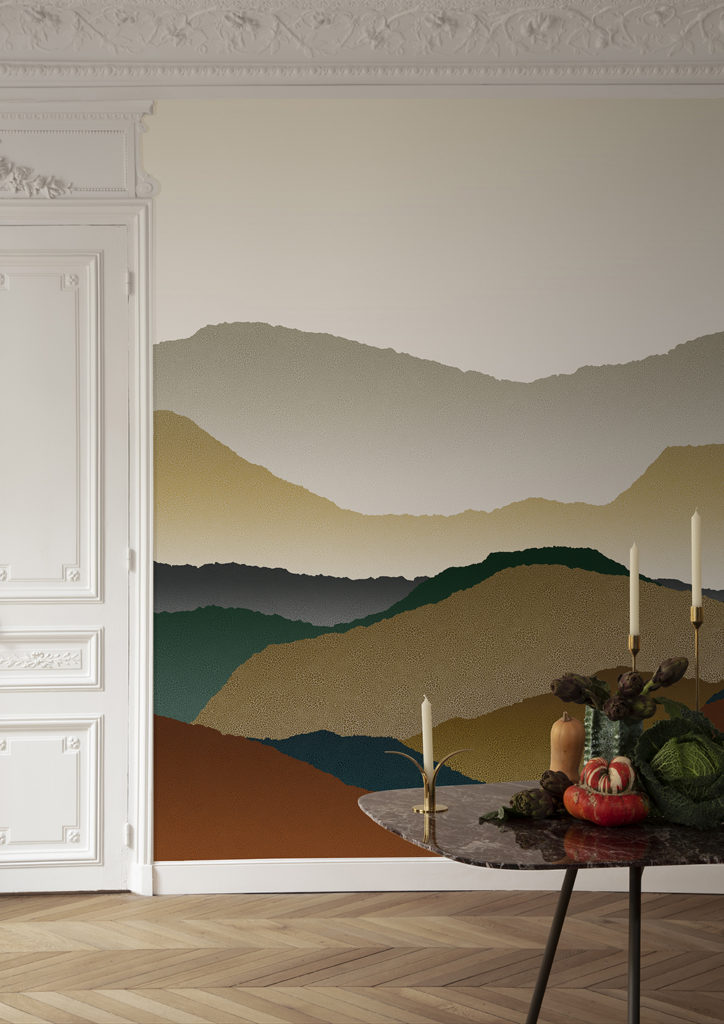 Ukiyo, «floating world» in Japanese, is inspired by traditional prints to evoke a mountain range, a sea of clouds or colorful waves. Printed on a background of iridescent mica, the texture imitates the crackled effect of raku, a precious Japanese ceramic with a "burnt earth" effect.
---
LES MOBILES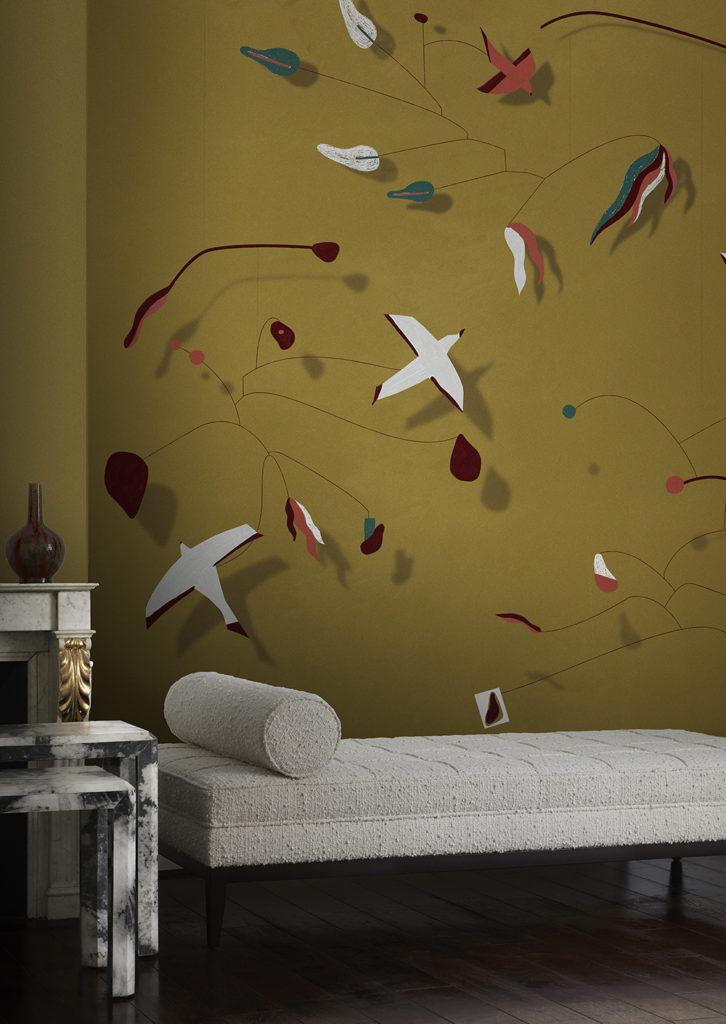 This panoramic is inspired by the famous Calder mobiles to create an atmosphere all in suspension and delicacy. Les Mobiles are available in 3 colors: a light color on a marbled background, and two intense colors, saffron and cypress.
---
ORÉADES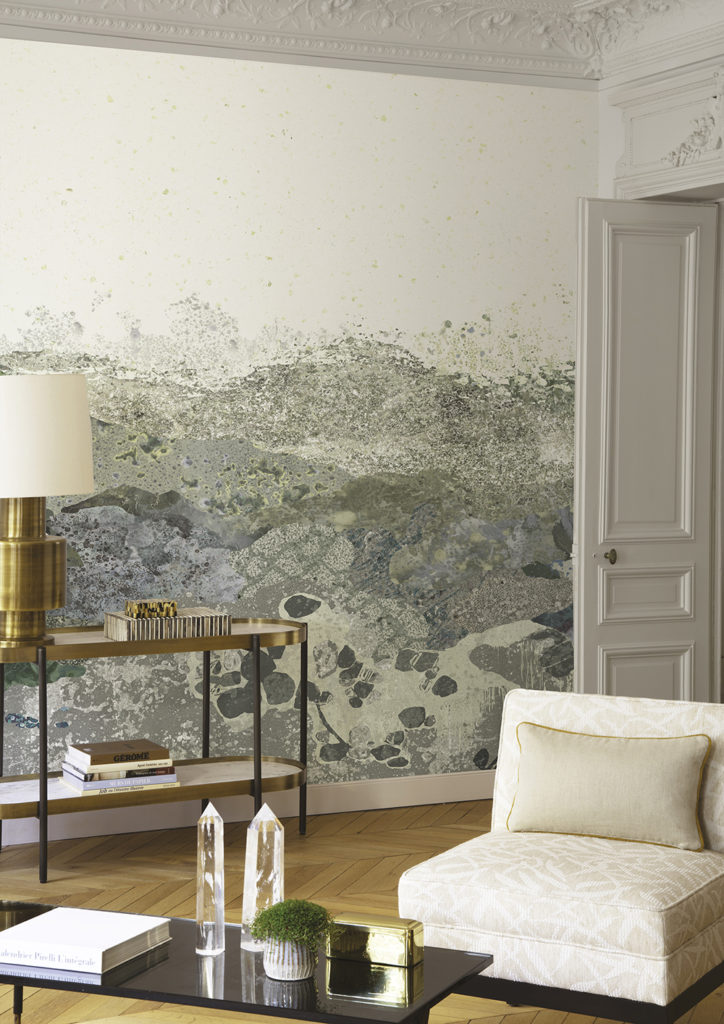 With Oréades, Nobilis revisits its oxidized patinas and put them like a large abstract landscape, composed of strata of precious metals and shards of precious stones. Like a boiling sedimentation, this mineral moor is available in two variants, gold and silver.
---
CURIOSITÉS I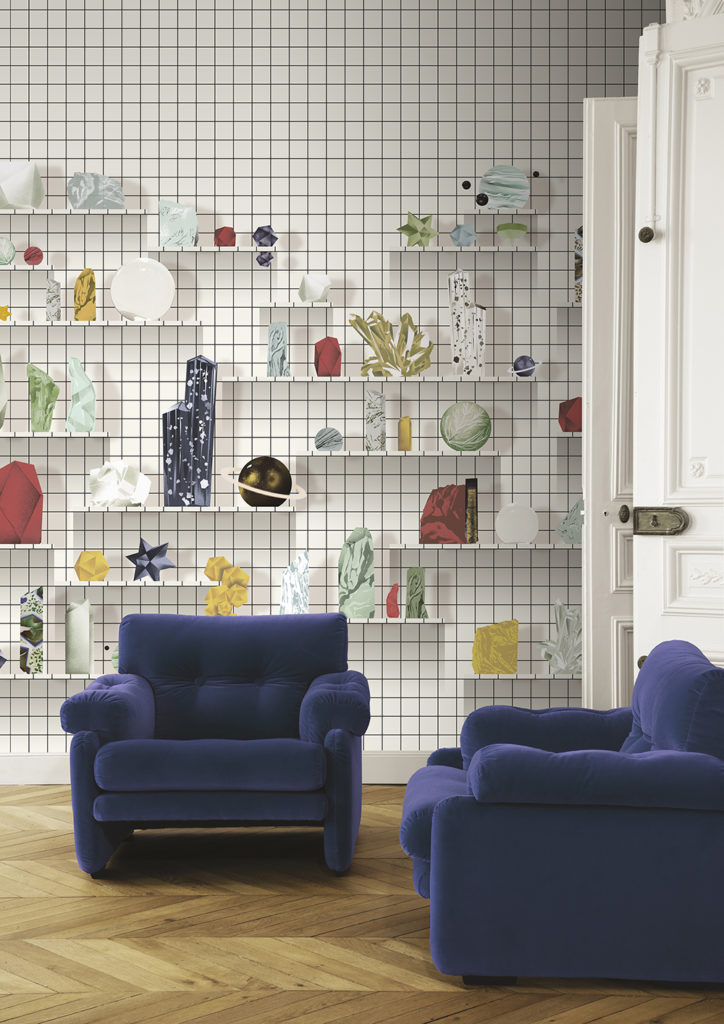 Nobilis reinterprets the cabinet of curiosities: minerals, planets and fantasized objects in the shelves of the shelf of an imaginary collector. Each element is extraordinary and surprising by its material, its size and its colors.
---
CURIOSITÉS II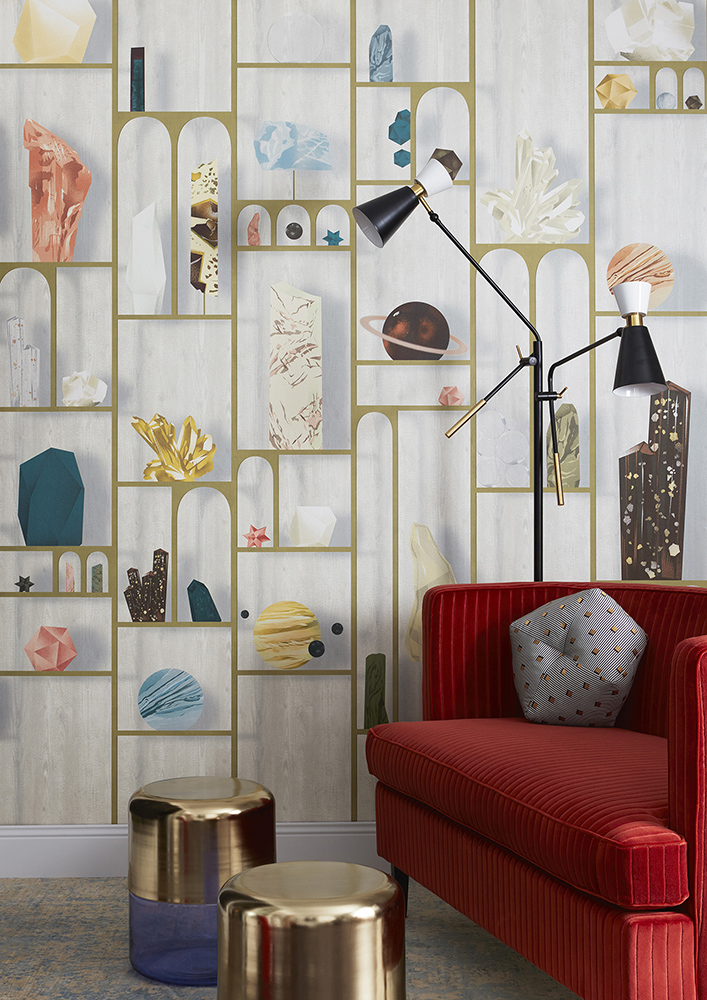 Two cabinets are available: one on a background of earthenware tiles (Curiosités I), and the other on a background of burnt wood and brass shelves (Curiosités II).
---
ITO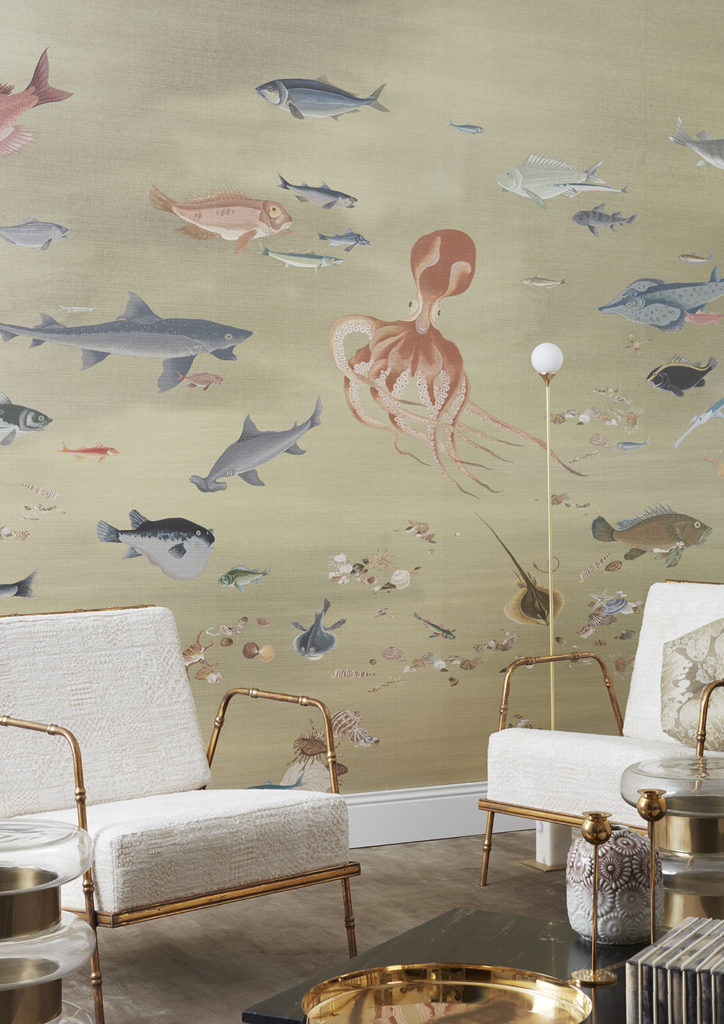 Inspired by the drawings of Ito Jakuchu, Japanese painter of the 18th century, Nobilis stages his vision of the seabed. Like a dive into the heart of the abyss, colorful fish, dancing octopus and seashells on a woven background reminiscent of paintings on silk.
---
JOSÉPHINE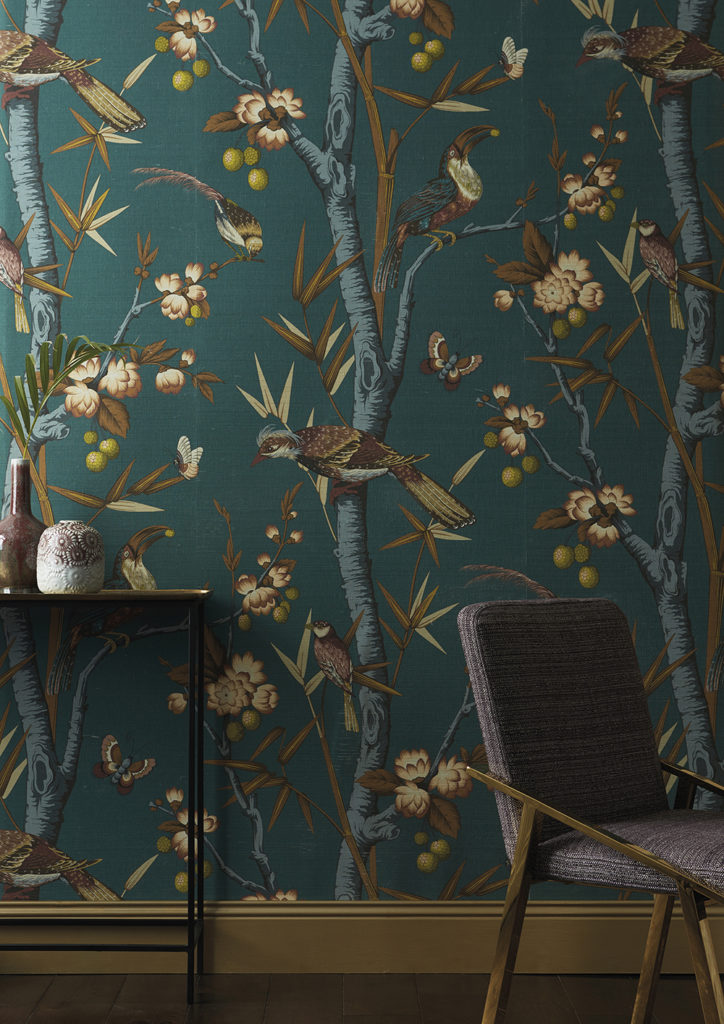 With Joséphine, Nobilis revisits a great classic design of wallpaper, offering bold and contemporary colors, printed on a Japanese straw. Colorful feathered birds rest in the shade of bamboo and a tree with flowers and exotic fruits.
---