The new Margo Selby Collection for Osborne & Little brings together colourful textures, and unmistakable Margo Selby design, in woven fabrics for upholstery and soft furnishing.
Inspirations are as diverse as architecture and typography, and always music.
Named 'Jive' after the raucous mid Twentieth Century dance, these structured designs are complex and energetic.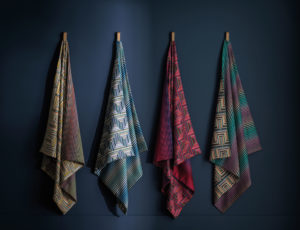 The chromatic palettes are developed through yarn-winding – the experimental placement of one thread next to another in varying proportions – a visual equivalent to a syncopated beat or a musical scale. The patterns feature clean lines and bold shapes, realised with mathematical precision, in harmonious colours.
Margo is a handweaver and artist, making unique textile works on various studio looms; the designs for the Osborne & Little 'Jive' Collection are developed from Margo's art practice – embodying the studios 'art-into-industry' approach.