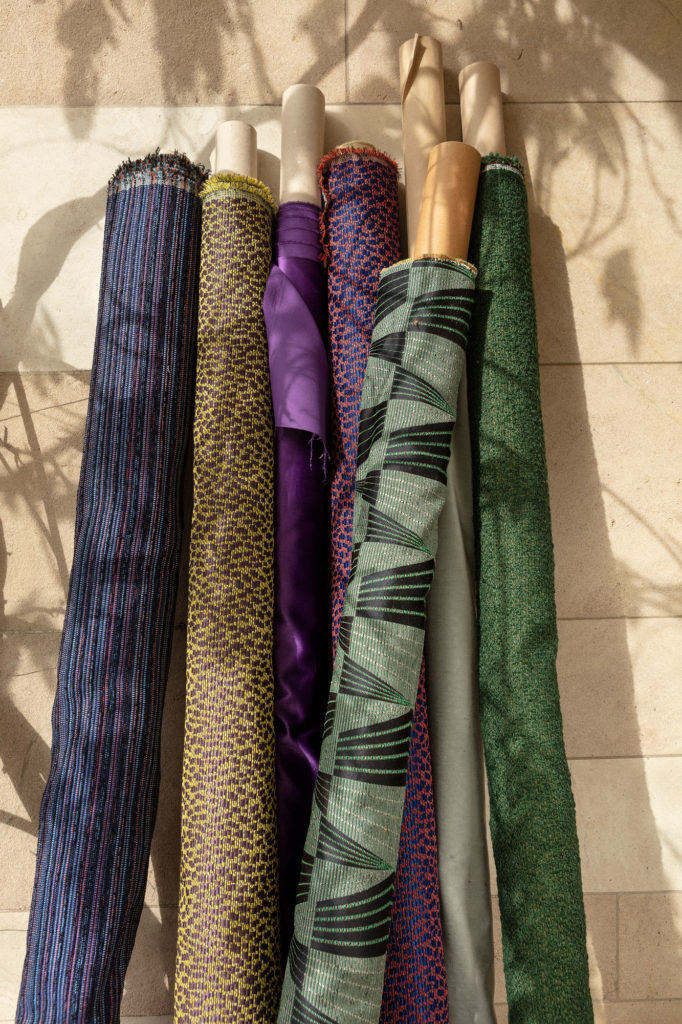 The spring 2021 collection is a homage to the enormous diversity of Africa.
Our premium decorative and upholstery fabrics are as expressive as the rich, colourful vegetation and cultures which span the entire continent.
Imaginative patterns are combined with flowing batik structures, while eyepopping colours come together with calm, earthy shades to celebrate life.
The creative shapes, colours, patterns and structures stimulate a desire for fresh looks.
Immerse yourself in Christian Fischbacher's refreshing designs.
---
SALONGA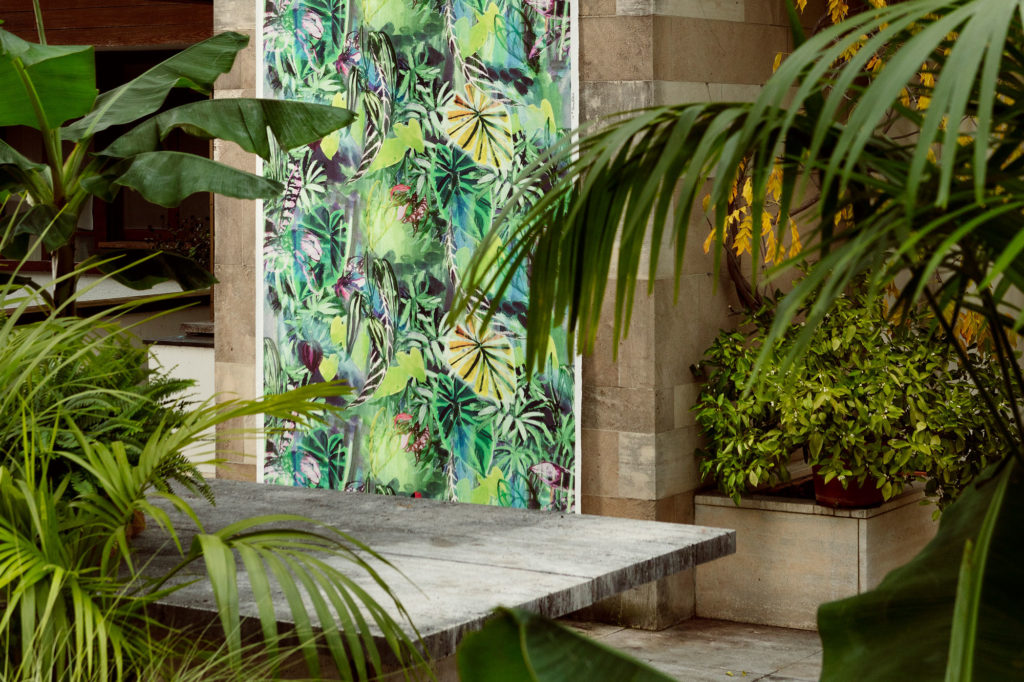 Welcome to the jungle! SALONGA is a thicket – impenetrable and extravagant. The hand-painted design was created at the company's in-house studio. Its style is spontaneous and impulsive. High-quality digital printing makes it possible to see every single brush stroke.
Three different versions depict the scene in the colours and light of morning, noon and night.
The design spans the full width of the fabric and is printed on a fine polyester fabric to mimic the look of raw silk.
---
POOL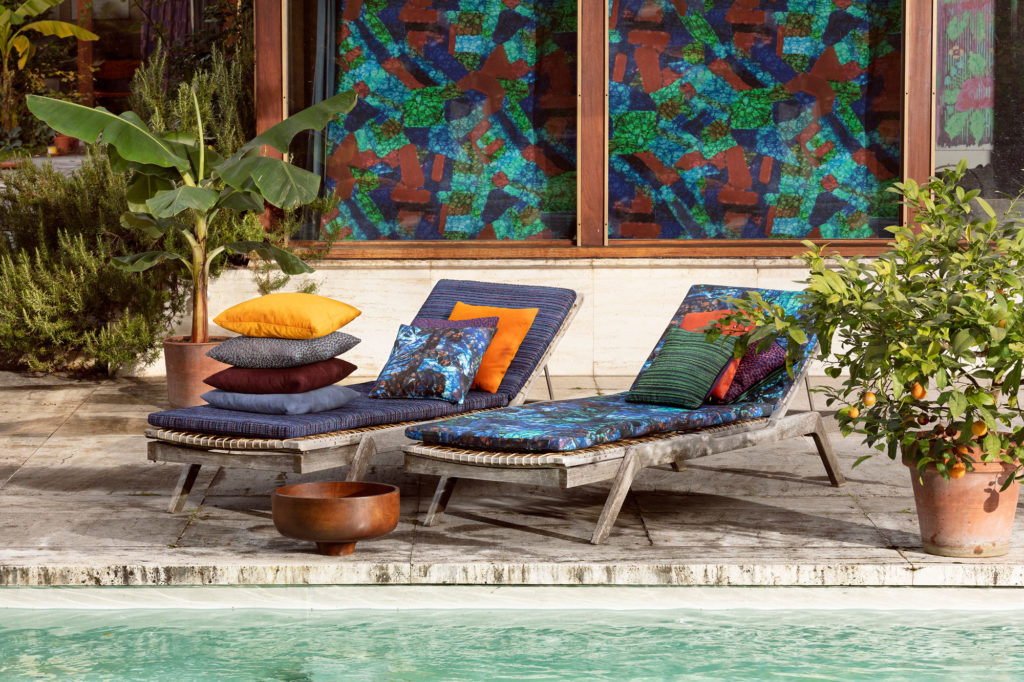 The hand-painted POOL design was developed by the company's in house design team and combines a batik effect with colourful abstract shapes. The pattern spans the full width with a semistaggered repeat and comes in two colourways –blue/terracotta and natural, earthy shades. POOL exudes feel-good vibes and can be used for curtains or as a lightweight upholstery fabric. Made from 100% acrylic, it is lightfast and repels both water and dirt thanks to its Teflon coating.
---
MANGROVE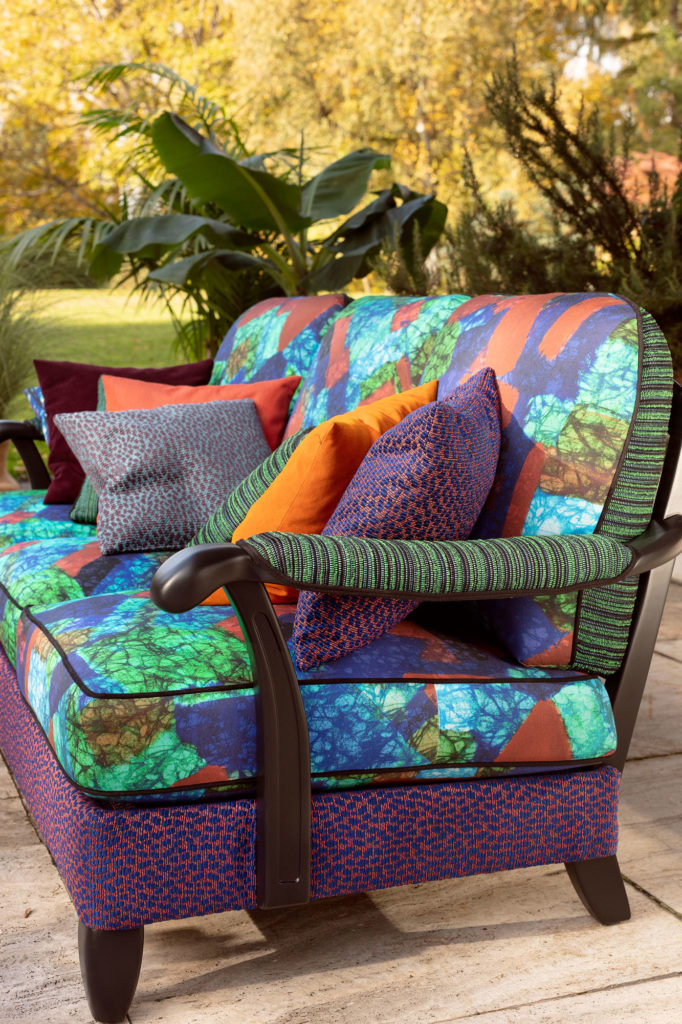 Inspired by African wax prints and fashion, this design embodies the magnificent continent of Africa. The hand-painted design twins refreshing, harmonious new colour combinations with complex layers of floral shapes and batik structures. The pattern spans the full width and is available in a terracotta colourway or shades of blue. MANGROVE made from 100% acrylic is extreamly light fast. It can be used for curtains or as a lightweight upholstery fabric., and finished with a Teflon coating to repel both water and dirt.
---
LAKE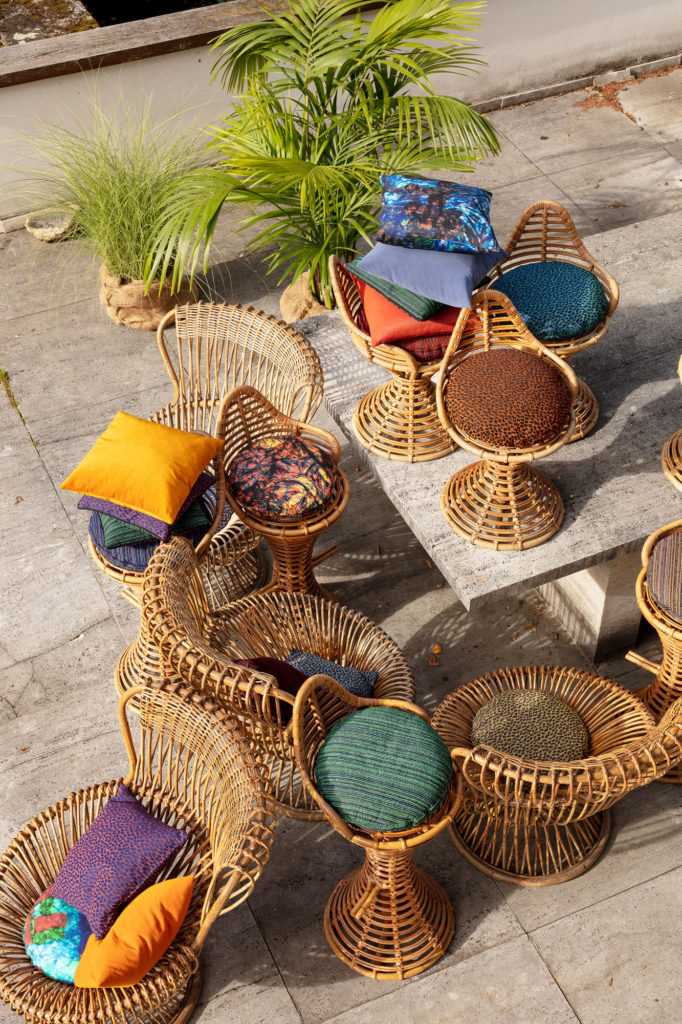 The yarns used for the indoor/outdoor upholstery fabrics LAGOON and LAKE have a very natural, cosey feel. As well as boasting this tactile appeal, the material is very easy-care and can be laundere in a conventional washing machine. The woven fabrics do not contain any toxic substances and are hypoallergenic. They have been shown to be very lightfast and are resistant to abrasion, making them ideal for indoor and outdoor use. LAKE and LAGOON meet the Oeko-Tex 100 Standard. They are resistant to chlorine and salt water, dirt repellent and lint-free.
LAKE has a pleasantly coarsestructure reminiscent of a rug. Strands of yarn consisting of several colours – in some cases contrasting – are collected together in bundles. A voluminous bouclé yarn creates a three-dimensional surface structure. Available in six colourways, LAKE is perfectly coordinated with LAGOON.
---
LAGOON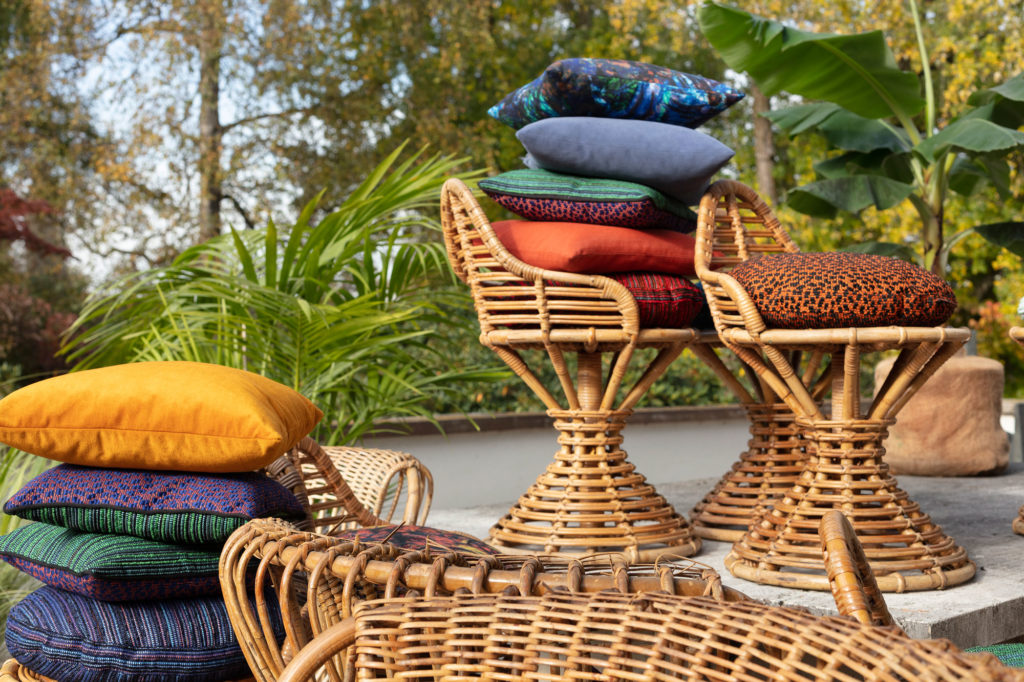 The small geometric pattern of LAGOON results from the vibrant combination of a different coloured warp and weft . Available in eight colourways, LAGOON is perfectly coordinated to match with LAKE.
---
KIONDO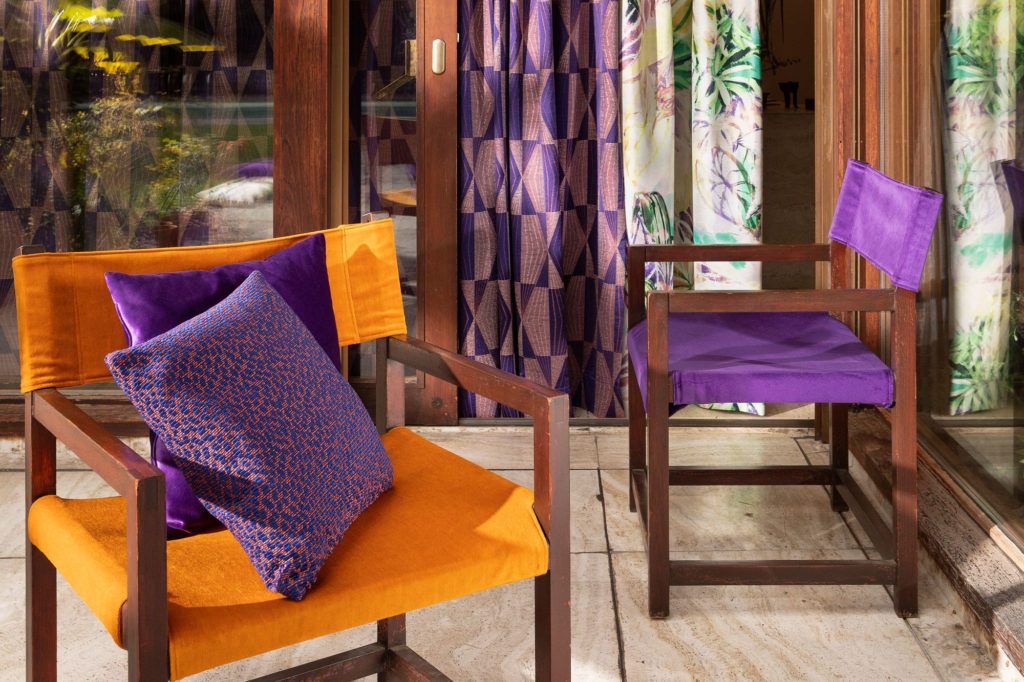 KIONDO. Inspired by Kenyan sisal bags, KIONDO draws on the rough aesthetics of these basket bags, which are usually decorated with graphic patterns. A chenille yarn in the weft gives the fabric its slightly irregular surface. It is a deliberate design feature that the yarns twist arbitrarily: this results in irregularities which round out the design. The soft, flowing jacquard comes in seven colourways from natural tones to a vibrant, contemporary purple.
---
Christian Fischbacher Showroom
20 rue du Mail  – 75002 Paris