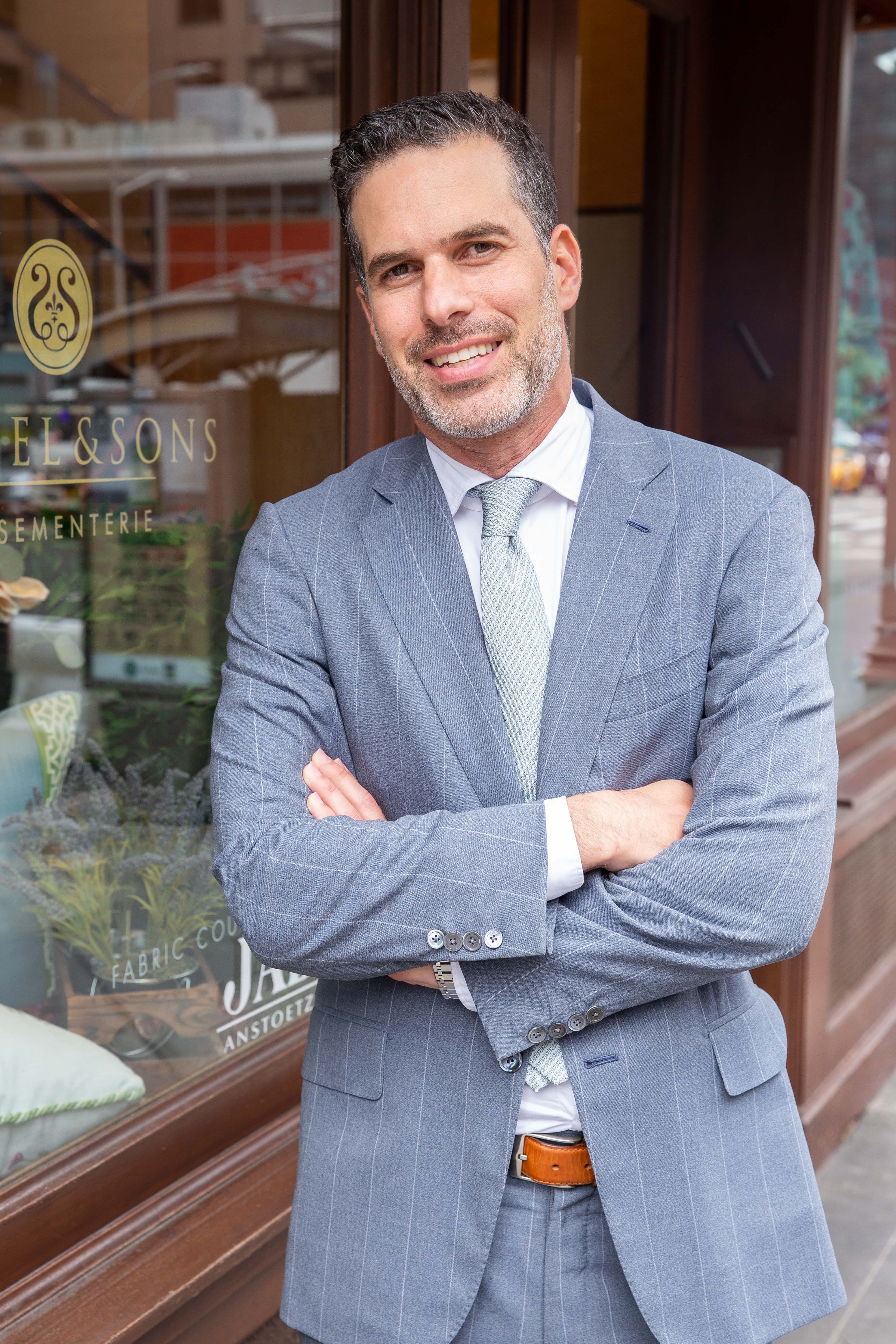 Interview of Michael Cohen
President of Samuel & Sons 
What are the advantages of a family-run House when compared to the competition and how does running the business get handed down from generation to generation? 
I am part of the third generation at Samuel & Sons.  Growing up in the business, I have childhood memories of being in the showroom as my father was assisting customers.  From a young age, my father and I often spent time discussing the various nuances of the trimming industry and its design.
Nonetheless, when I graduated from university, I was adamant that I would pursue a career in finance.  After nearly two years, however, I realized that corporate life was not for me.  It seemed dull and stagnant.  
Joining Samuel & Sons from corporate life, I quickly fell in love with the design clientele, the beautiful passementerie, and the industry.  I noticed that the lessons of my childhood had been instilled at the company.  My father had infused a culture of service – every customer was given immediate attention and the passementerie was in stock for immediate delivery. 
At the onset of my career, throughout the industry there was a sense at many showrooms, that the clients had the privilege to shop with them.  At Samuel & Sons, it was the opposite – we had the privilege to serve clients and it was important to give them the attention they deserved. 
With every interaction, we aim to enhance people's lives through endless creative possibilities.  This is something that was apparent well before I joined the business.
My early contributions included the opportunity to improve our operations through technological improvements and change.  My first project was to organize an inventory system.  From there, we established our design studio, launched our passementerie collections throughout the world, and invested heavily in our website. 
How have the successive generations specifically influenced the creative process? How do you distribute roles, and are decisions made collectively?
As a family-run house, we are united in our passion for passementerie.  My role is to work on our business expansion as well as with our design studio and marketing departments.  My brother Hymie works deeply with our sales teams and has strong relationships with the design community.  My brother Joseph started his career developing websites for a variety of companies, and today heads our industry leading website and technology departments.  We are fortunate to genuinely enjoy working together. 
Throughout our history, we have always challenged traditional expectations of passementerie and pushed boundaries on design.  Often the perception of passementerie was that it was only traditional.  In nearly all of our collections, we seek to modernize and innovate.  Leveraging our decades of relationships and knowledge, we are consistently challenging production and design norms.  We seek out new components, such as metal, seashells, handblown glass, and woods.  Moreover, we have partnered with the finest craftsmen and have been able to extend passementerie into skills such as hand embroidery, laser cutting, applique, and hand-cut velvets.
We firmly believe that passementerie is jewelry for the home.  We are intent on carrying on the family tradition of fine passementerie and superior service, while we reimagine and redefine passementerie for the 21st century.